Discover our course books and materials for general German classes.
Are you teaching DaF or DaZ courses at a language school? telc teaching materials for general German can be used flexibly in intensive or extensive classes, evening or corporate classes. They also help prospective students, current students and qualified professionals reach their goals quickly.
Our course book series "Auf jeden Fall!"
With our six-volume course book series, Auf jeden Fall! Deutsch A1-B1, you will be able to provide your students with solid German language skills at elementary level as well as prepare them for higher levels. Thanks to its rapid progression, Auf jeden Fall! quickly establishes a solid language foundation for motivated learners. Even at a lower language level, learners practise expressing and justifying their opinions in German with simple sentences. This trains their ability to engage in discourse.
In everyday life, work and studies, it is often necessary to combine skills and summarise what has been heard or read in a brief written or oral form. Auf jeden Fall! promotes these skills and linguistically prepares learners for professional or academic life. The course books also specifically teach learning strategies to comprehend unfamiliar vocabulary and challenging (listening) texts—all of this through exciting topics that spark enthusiasm for the German language and learning!
You can find the audio files, videos, answer keys and transcripts as free downloads here. The course books and teacher's guides are available in our shop.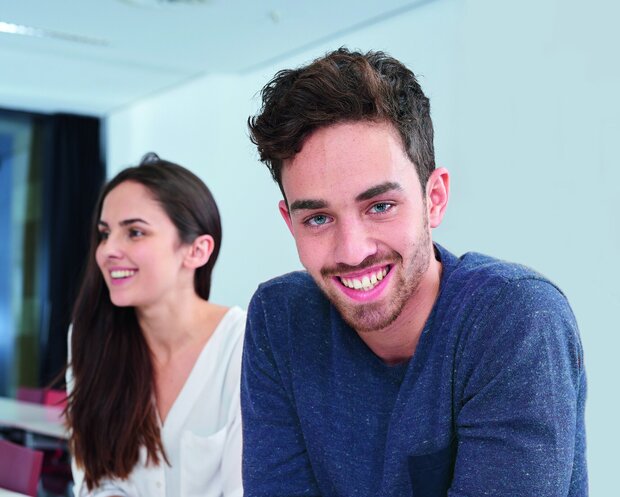 "Einfach weiter" German B2
Einfach weiter! is the appropriate course book for experienced and motivated advanced German learners. It covers all important B2 language issues through exciting topics. Einfach weiter! explores fascinating subjects in the areas of everyday life, science, society and profession through eleven flexible modules. Those who wish to work or study in Germany can acquire a solid foundation with Einfach weiter! The course book also provides a strong B2 base for those who plan to take a C1 course afterwards. With an additional lesson for exam preparation and a practice test, Einfach weiter! prepares learners for the telc Deutsch B2 exam. You can find the audio files in the download section on our website. The course book is available for purchase as a printed book or e-book, and the teacher's guide can be downloaded as a free PDF in our shop.
Exercise books and self-study materials
Exercise books and self-study materials are also available for targeted practice of language skills and grammar in a professional context. These materials are suitable for both classroom instruction and self-study.
General language serves as the linguistic foundation for all target groups. General topics are equally interesting for professionals and students, learners in corporate courses, or au pairs. General language teaching materials cover a wide range of topics related to everyday life, work and school/studies.
What is German for specific purposes?
Language for specific purposes, such as medical language for healthcare professionals or technical terminology for engineers, is relevant for specific target groups. Materials for specific purposes provide specialised vocabulary within a particular field. Working with such materials is recommended after successfully completing a general language level of B1 or B2. Explore our range of materials for specific purposes here.